Make fitted MDF wardrobes look and feel great internally (26 June 2013)
Fitted wardrobes look great. They maximise the space in a room, allow you to specify exactly how you want the internal space divided up and add value to your home. However they can be expensive.
One way to reduce the cost is to have them made from MDF. OK, its not for everyone, there is no comparison to having natural wood wardrobes, but for many of us the option is just not financially possible.
Outside is simple enough to paint and make them look fantastic but what about the inside? How do you make the MDF wardrobes nice internally so when the door is open they look decent and the surface is pleasant to the touch? Painting could be an option, however, buckles, buttons metal clips are all going to rub that paint and scratch it over time.
Having had some MDF wardrobes built and learning from past experience that internal painting is going to scratch I set off to cover the shelves with this self adhesive vinyl material.
What I found was that its easier than I expected. Yes it's a little fiddly and I must admit I chose the hardest design to work with (the gingham - lining up those squares was not impossible though did take a careful eye) but at no point was I red with frustration.
The tools I used were pretty basic...
Old high school ruler (yes its now 20 years old, still covered in tip-ex and scribbles of unmentionables but the main thing is its still perfectly smooth on the edges). You would find it easier though if you have a ruler that is say a meter long or even a straight piece of wood would do the job. You only need it to cut straight lines and 30cm was a bit short so I kept having to stop cutting, move ruler then continue the cut.
A large cardboard box that I laid flat and was my cutting board on the floor. (carpeted floor – if the knife went through the box a carpet will not scratch like a wooden floor would)
A crafting knife. Possibly the most important thing to get right. The cutting knife must be sharp for a clean cut without snagging. If you don't have one then its something I would strongly suggest you buy.
Tape measure
On with the job....
Make sure the area is clean and free of dust. Use wet cloth to wipe down and then allow to dry thoroughly
Measure the first area you are going to cover. You will want the vinyl to wrap under the front of the shelf so you must build that in too. I started with easiest so I could get a feel for how this vinyl worked, middle shelves, that meant I only need to cut the vinyl on the length.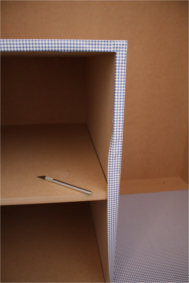 The reverse of the vinyl sheeting has a cm measuring grid so you dont have to faff about with a tape measure measuring the vinyl.

Once I had the length I needed I added a few more cm (best to cut yourself too much than to little) and using the ruler I then cut down the line of the measuring grid. Unlike most vinyls on the market this vinyl is manufactured with a special quality – when you first fit it, it wont stick fast. This means you can remove it very easily and reposition if you did not get it right. Then once you are happy with position flatten it down using the ruler like a roller. If you get air bubbles as you are flattening lift the vinyl up again to the point of the bubbles (no need to lift the whole sheet up) and then re-lay. Over the next 24 hours the adhesive will grow stronger and stronger.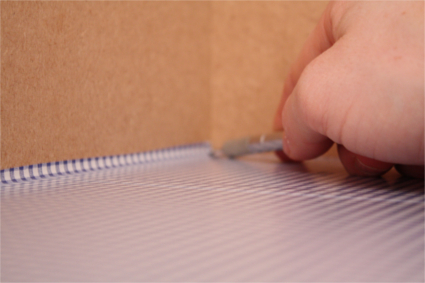 I was not worried about laying it in the perfect position first time. I thought it more important to get it flat and without bubbles and best to run the vinyl up the wall of the wardrobe a little and then cut it away later.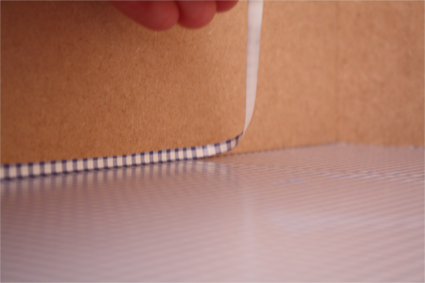 Any cut off's I kept until I had fully finished. At some points I was just cm short of coverage and so I use the off cuts to fill the area. I chose not to cover the underneath of the selves or the back as they are going to be largely hidden by clothes. Doing the shelves means they can be kept clean and dusted easily and it simply looks pleasant when the doors are open.
Finished...